How much work can a car need!
My Volkswagen Passat has had a few problems... Mostly to do with the suspension, and its alignment, but it is causing some interesting problems.
So far during my ownership it has eaten all of its front suspension bushes and shock absorbers twice. With this not really being right I decided to have a few friends try the car. the most expreienced and knowledgeable of them first of all said: "It feels fine to me!", and others just shrugged their shoulders.So I decided to have the dealers look at it. Citygate VW in Watford said: "We don't have the right alignment equiptment to set the alignment on these cars......WHAT.... So I decided to speak to Amersham Audi, they said: "We don't do Volkwagen's" But after a bit of persuasive flattery (It is an A4 with a different body) they agreed to take the job, and it was duly booked in for Friday the 7th Sept.
With this in mind I looked at the cars suspension components and decided to replace all worn parts before they had it for alignment. So we went hard to work the night before it was due to go in and replaced the following parts:
Front Shock Absorbers
Low riding Springs (all round)
Anti-roll bar droplinks
LH Tie-rod end
So Amersham took the car on Friday, and guess what. I get a phone at 17:20, "How late can I keep the car, err we haven't started it yet." I was dissapointed to say the least, this type of problem is not unusual when dealing with main dealer outlets, however AA were very responsible in their response and re-booked the car wuickly, washed it and promised excellent services and the job done then, and actually sounded sincere. So we still think that this is the best place for the car.
On the way to Lydd in Kent, yesterday(Sunday), to partake in some racing activity we hit a dip in the road and Steve went err! that felt horrible. I don't think that your wheels are pointing in the same direction!
Car Specs
VW Passat 1.8 20v Turbo Sport Saloon
Engine Code: AEB/ 150Bhp Light pressure turbo
4 cylinder/ 5 valves per cylinder, one coil per cylinder
Bosch ECU controlled engine mangement, adaptive program based on sensors from;
engine speed
cankshaft position
throttle position
inlet air temperature
coolant temperature
knock sensor
Suspension
Fully independant front suspension with 4 transverse arms, 2 upper, 2 lower and a solid upright in an unequal double length wishbone configuration with coil-spring over telescopic dampers connected between the front lower transvers arm and upper arms mounting bracket. The hub carriers house wheel bearings, brake calipers, and hub/disc assemblies and are connected to the arms by balljoints. Front anti-roll bar is connected to the subframe by rubber bushes. The subframe carries all mountings for the suspension, engine and transmission.
Rear suspension is by a solid sprung rear axle, with trailing arms connecting to telescopic dampers, there is no rear anti roll-bar. The rear axle is mounted to the body via trick bushes that give rear-steer!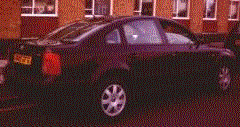 So there we have the before shot, now after a raft of new parts, and a very expensive alignment session its back and looking fantastic. Check her out below: